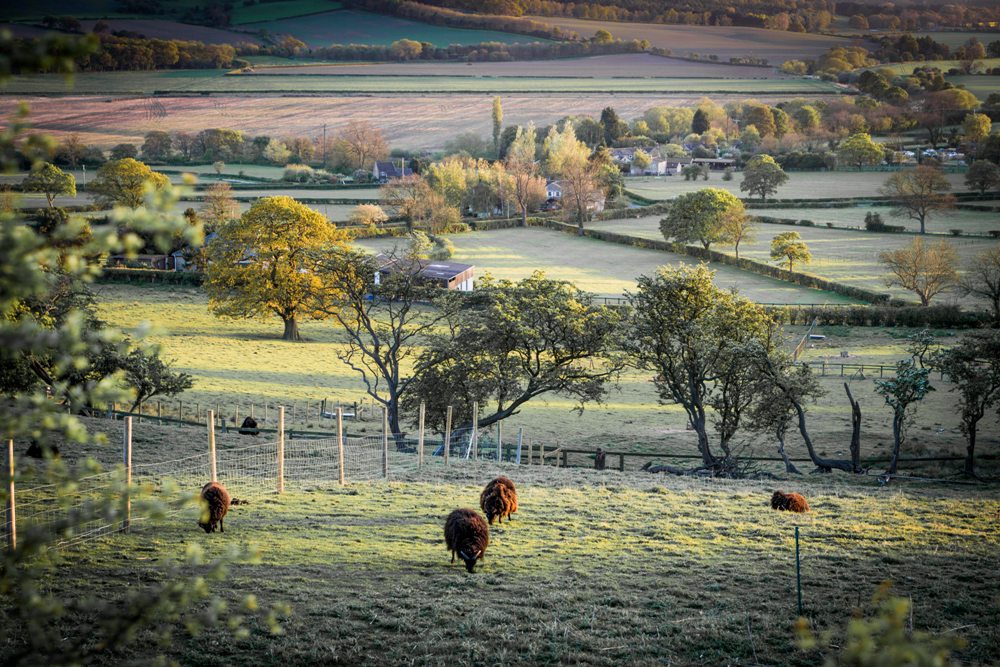 Have you ever looked out over an incredible vista in such awe that you just had to take a photo? Only to reminisce later over a photo that didn't at all do justice? It can be said for many destinations – you have to experience it firsthand to really understand. But there's no place quite like Lady's Well – and you won't know until you arrive.
Lady's Well is Somerset's oldest, still working farm. The farm is located in Hutton, a quaint little village. The farm is a slice of paradise in Somerset – pure blissful fascination. When you arrive, you'll walk through a short field dotted by apple trees. Your hosts will have a cart ready for you in case you have a lot of luggage. Aside from your hosts, you'll also be greeted by the farm's many animals. Depending on the season, you may get to see piglets! Chickens, cows, and horses always roam freely.
The Shepherd's Hut at Lady's Well is set away from the bustle of the farm in a separate field – but not so far away that you feel excluded. It's the perfect setting for a bit of privacy. The hut's interior is homey and has everything you might need for your stay. The kitchen is large – just like an old-fashioned farmhouse – and so are the other rooms. You'll sleep on a king-sized bed and lounge around in your provided robe after you've partaken of your private hot tub. Outside your comfy hut is a beautiful area with lounge chairs, a natural spring-fed pond, and a firepit for those nights you just want to cuddle in front a fire.
For even more romance, take a short walk to the lookout. It's just up the hill and it's the best spot on the property to bring a picnic and a blanket – or just a blanket so you can stay warm while you gaze at the stars. If the skies are clear, you can see all the way to Wales.
Are you excited to discover Lady's Well Shepherd's Hut, and the village of Hutton? This is where you're meant to experience the English countryside.
Great Vacations is a members only discount travel provider that utilizes one of the largest travel search engines in the world. This search engine has performed on hundreds of thousands of vacation and travel requests giving unprecedented value to our members. One of the hallmarks of our concept is to present our members with services at prices that essentially remove at least one of the links in the chain of travel markup. You will earn vacation currency based upon most travel bookings. Vacation currency can be redeemed on additional licensee benefits and travel. Great Vacations does all the work for you and YOU reap the benefits!