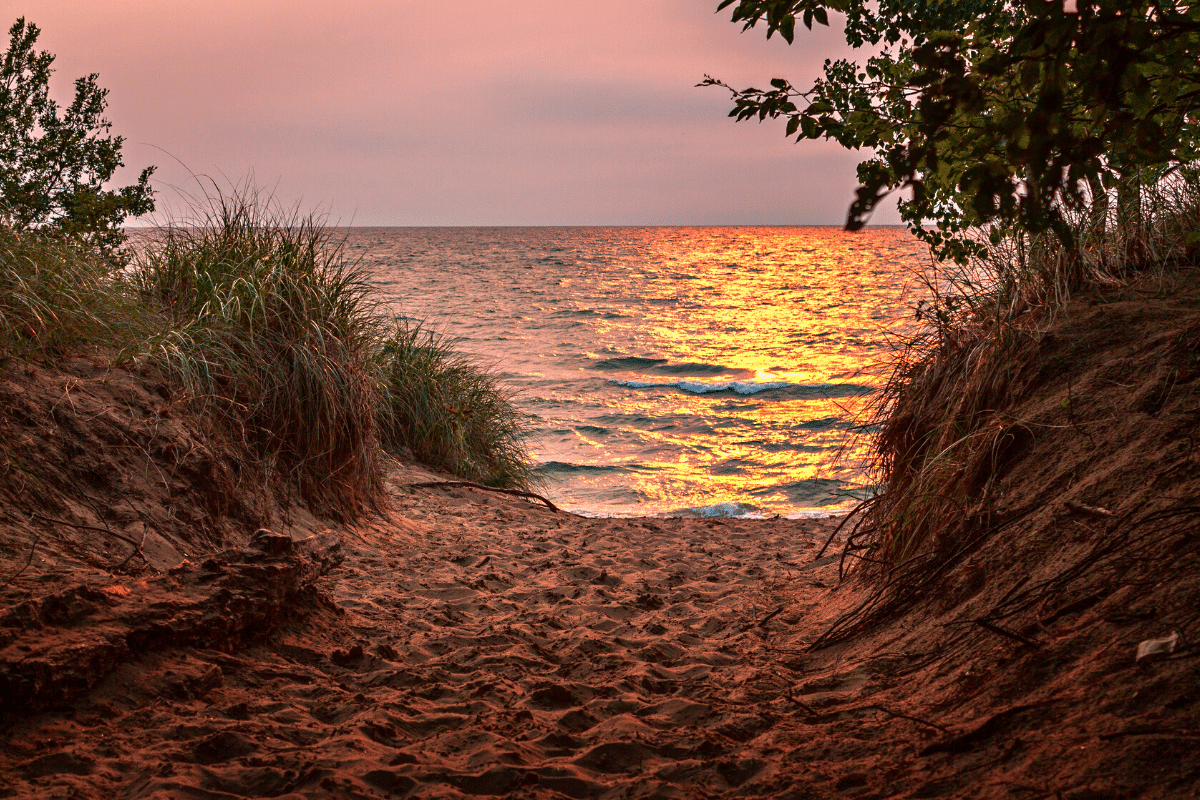 While Chicago has its own eclectic vibe, sometimes you just want to get out of the city and explore what's around you. Here's where to go to get out of ChiTown for the weekend.
Saugatuck, Michigan – 2 hours from Chicago
Michigan isn't far from the Windy City. Consider Saugatuck and the neighboring vicinity – the region's produce and overall agricultural diversity is extraordinary and second only to the Golden State of California. Just 2 hours from Chicago, you can hike Mount Baldhead and admire the stunning view. After, eat at Pennyroyal Café with chef Melissa Corey. For spirits, head to Modales Wines to sample their vintages. At the end of the day, head to any of the area's spectacular beaches to take in a glorious sunset over Lake Michigan.
Wisconsin Dells – 3 hours from Chicago
A little farther north from Chicago (about a 3-hour drive) is Wisconsin Dells. As it's known by locals, The Dells is like stealing the DeLorean for the day – the strip of water parks is miles long and still retains its glory from the 1950s when this area first emerged as a family-friendly destination. A visitor favorite is at Kalahari – check out the Master Blaster. It's an uphill roller coaster through the water. The favorite water park among locals is Noah's Ark – it has the most water slides in The Dells. If water parks aren't your thing, consider Chula Vista Resort with over 6 acres of zip lines for your adrenaline-seeking activities. Just make sure you save room for the cheese curds – you'll find the best in the Carr Valley.
Lake Geneva, Wisconsin – 1.5 hours from Chicago
Also in Wisconsin, but just an hour and a half north from Chicago, Lake Geneva is the region's answer the Hamptons. Lake Geneva was popularized by the famous families that helped build Chicago. The lake offers over 20 miles of public access beach access thanks to a treaty stopping any companies from developing along Shore Path. But that doesn't mean there are no accommodations – consider Baker House or Black Pointe Estate. They're some of this small town's best hotels. But don't think you can only visit Lake Geneva in the warm weather months – January and February offer Winterfest which, while popular in its own right, is much less trafficked than Lake Geneva in the summer.
Where will you escape to get out of ChiTown for the weekend?